Our excursions all start from the tourist port of Palau. We recommend to our customers our classic itinerary in the Archipelago of La Maddalena, which include the traditional visit to its most beautiful islands. Further itineraries and destinations can be arranged with the Skipper.
Recommended itinerary:
Sailing trip in the La Maddalena Archipelago National Park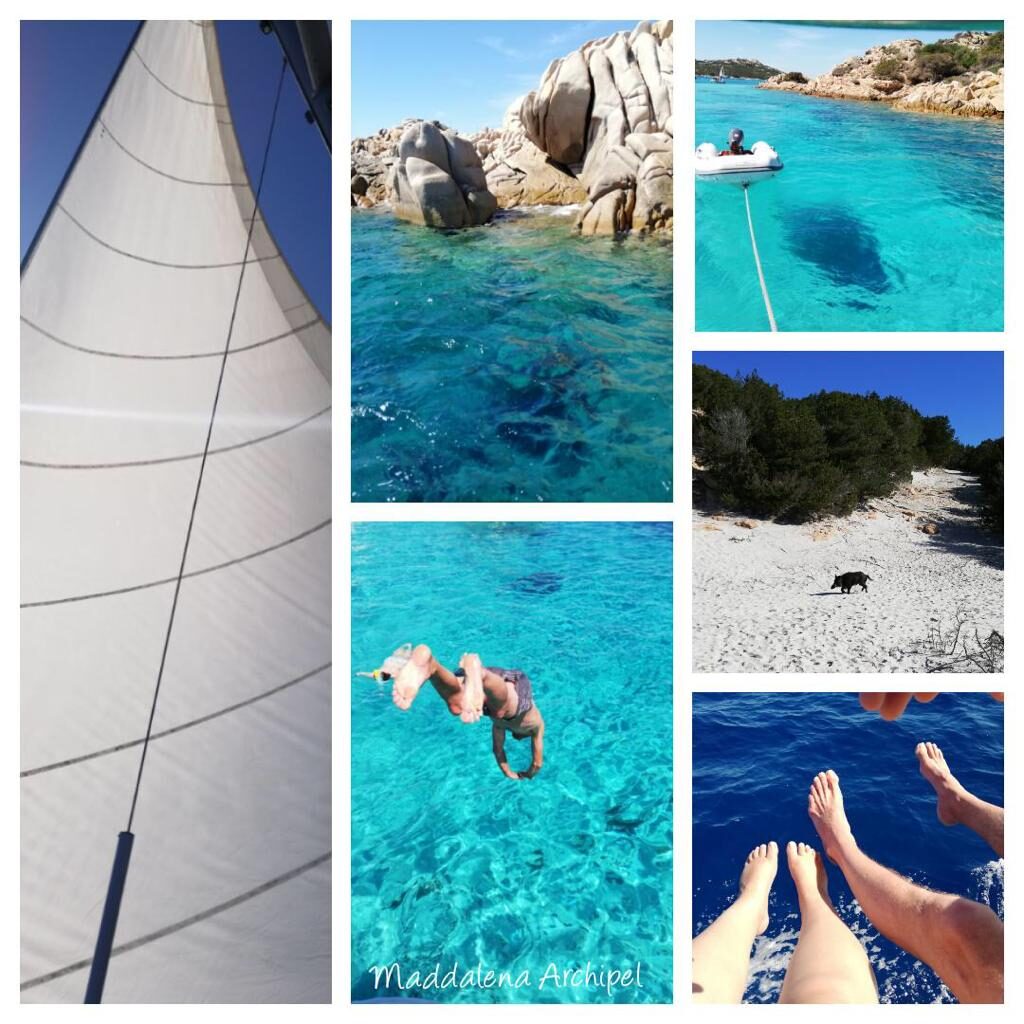 Our excursions offer visitors unforgettable emotions and memories. The beauty of the sea and the islands of the Archipelago are unique. The scents of the Mediterranean brush, the colors of nature and the granite rocks, with their bizarre shapes, make the Archipelago one of the most sought after destinations.
Made up of seven main islands and numerous rocks and islets, the Archipelago of La Maddalena offers numerous landing places where you can spend relaxing days, swimming and enjoying the sun in good company. Our sailing excursions in the La Maddalena Archipelago will lead you to the discovery of the island of Spargi, Budelli and Santa Maria.
Spargi embodies spectacular landscapes of land and sea. Among its most beautiful beaches, accessible by boat, are Cala Corsara, Cala Granara and Cala Soraja, where visitors can enjoy an unparalleled beauty of nature and an emerald sea.
Budelli enjoys a well-deserved reputation above all because its eastern coast contains the wonderful Pink Beach, a symbol of untouched nature. Its environment is wild with a widespread vegetation of Mediterranean vegetation, with its fine white sand beaches that lie between granite rocks and a crystal clear sea, and which give the visitors the impression of being in a Caribbean paradise. The island has an area of just 1 square km and, despite being very small, attracts guests from all over the world.
The "Porto della Madonna", also known as "Natural Pools of Budelli", is a lagoon with crystal clear and shallow waters that is located in the center of the three islands. It is the ideal place for a lunch stop between perfect nature and a blue sea of rare beauty.
Santa Maria is an island different from all the other islands of the La Maddalena Archipelago, because it is uniformly flat. In the southern part there is the famous beach of Cala Santa Maria which, for its beauty, attracts hundreds of tourists during the summer.
BOOK ON WHATSAPP